So I've feathered into 3,500 RPM and now I wait for the signal to floor it. Given the signal, I press the pedal hard to the floor and hold it there for ten seconds. The dyno is locked on to the predetermined speed, but is now measuring the force being exerted on the rollers by the rear wheels of my car. The effect of stomping on the gas is another one of those odd feelings on the dyno. On the road of course, even with a 948 you'd feel some acceleration! On the dyno, your reward for putting your foot down is nothing - you don't feel anything at all.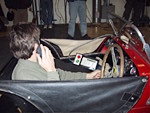 awaiting instruction
Don radios that I can let off and put the car back in neutral at idle, while he spins the rollers up to my 4,000 RPM speed. He radios that he's ready, I bring the revs up to 4,000 clutch in, choose 4th, and slowly let the clutch up - I match the revs a little better this time and the hookup of the clutch is almost unnoticeable. I hold it there waiting for the signal, then floor it for ten seconds. Back to idle in neutral while we spin up to an indicated 82 miles per hour, which is really about 63 according to the dyno. One more time, I rev it up, feather it in, wait, pedal down, get the word, put it back in neutral and let the motor coast back down to idle. Now I sit in the car with the wheels spinning down from 63 mph - like coasting along a flat road in neutral. Eventually the drivetrain comes to a halt and our test is finished. I'm told that we should get word of the HP output by the time we leave today, or at least it will be emailed to us.
A few minutes before we clear out, Don walks over with a couple of papers. He hands me a printout of the report. Here's what it shows:
engine rpm

dyno rpm

indicated speed

speed
per dyno

power hp

3500

343

60

49.0

25.6

4000

400

70

57.1

28.7

4500

456

80

65.1

30.6