contact Bill Fayers directly at: sccaseven@hotmail.com or phone: 1-403-241-7750 (Alberta, Canada)
Unused Series 2 or 3 fibreglass nose cone. This was specially manufactured for me by Curtis Unlimited of California - i.e. Bert and Fay Curtis - sadly I read of Bert's passing a short while ago. This lightweight fibreglass nose cone was manufactured using thinner layers, reducing the weight from normal for racing purposes, but still strong enough for road use. It is lighter than an equivalent Caterham or Lotus nose cone. There are no fixing holes drilled out, but the outline of the top and lower holes can be seen from the manufacturing process as a guide. They can be drilled for any particular chassis, and may be attached over or under the lower front nose cone brackets. If under, the lower reinforced bottom lip of the nose cone will require clearance just where the brackets are located. It is finished in light grey primer. The anti-roll bar side cut-outs have been extended slightly for clearance to allow for heavier gauge (thicker) anti-roll bars, or for upper wishbones if desired. I am asking $130.00 U.S. for the nose cone (which is what I paid for it some time ago), plus shipping by your chosen method.
A correctly shaped and drilled 18 gauge mild steel flat bracket to hold the windshield wiper motor on a Seven. It needs 2 easy folds in the metal (which I can mark for the purchaser, plus supply a drawing if necessary), and is then fusion or bronze welded to the left hand side top of the frame and dash structure (again, I can provide the measurements and a photo if necessary). The plate is correctly drilled to mount the windshield wiper motor. I had it made as a spare (copied from a Lotus Seven original) when I was contemplating rebuilding (or attempting to rebuild) my original frame, but never got around to shaping it or having it welded on. $10.00 U.S. plus postage.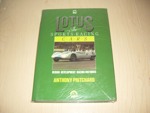 "Lotus the Sports Racing Cars" by Anthony Pritchard. Design - Development - Racing Histories. Has a couple of photo pages on the Lotus 6 and 7 plus all the early Lotus sports racing cars up to the Lotus 30 and 40. Very little documented information on the Seven however. Still in its original plastic cover (over the top of the book cover) as supplied by the publisher. $50.00 U.S. plus postage.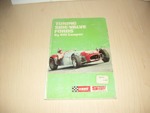 Soft cover book "Tuning Side Valve Fords" by Bill Cooper. A Cars and Car Conversions/Speed Motorbooks publication. Full of valuable tuning information regarding the old side valve Ford engines. Black and white photos of racing Sevens (mostly Series 1 cars), plus Len Terry's 'Terrier' racing sports car, and others. Found in an auto parts store in condition as shown. All pages still attached, but cover worn. $10.00 U.S. plus postage.
1 piece of 1 1/2" by 3/4" by 36" long rectangular 16 gauge mild steel upper seat belt mounting tube. This can be cut to exactly fit the upper rear area behind the seat back between the 2 rear damper (shock absorber) mounts to allow the fitting of 4 or 6 point safety belt harnesses. The tube comes with 4 of 1 1/4" long threaded tubes to take the standard seat belt bolt size used by Lotus and Caterham. These threaded tubes have not been fitted as it depends on your chosen location for the upper belt fixings. Also the tube is longer than the space between the rear damper top mounts. This distance seems to vary somewhat on various Lotus chassis and can be custom cut to provide a tight fit for a good weld. When bronze or fusion welded in place, it can be made water tight and not subject to rusting as per other methods of upper seat belt fixing that are available. $47.00 U.S. plus postage (can be sent by post as the weight and size are not excessive).
4 new, unused Dzus upper nose cone mounting brackets for sale. These are drilled to take the Dzus spring and formed to take the Dzus pin. They have the side angled reinforcement as per the Lotus top mounting originally fitted. $4.00 U.S. for 2 brackets plus postage, or the 4 for $6.00 U.S. plus postage.
1 pair of aluminum anti-roll bar clamps for sale. These are accurately drilled and have the grease nipple threaded hole. These originally came from Arch Motors as spares, and are as new, unused. These fit on the upper front of the chassis to take the 1/2" diameter anti-roll bar, but can also be used for fitting an anti roll bar on the rear of the chassis if required. $30.00 U.S. plus postage.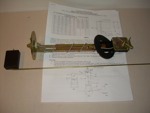 1 Classic Instruments fully adjustable fuel sender 0 to 90 ohms. 5 bolt fixing for a Seven. Some older Serck tanks (like mine) were 5 bolt fixing. Classic Instruments sell a line of vintage gauges to go with this unit (not supplied - see their web site for details). $40.00 U.S.
contact Bill directly at: sccaseven@hotmail.com or phone: 1-403-241-7750 (Alberta, Canada)
W. Fayers, 64 Tuscany Meadows Heath N.W., Calgary, Alberta, T3L 2T8 Canada.
Paypal is accepted on all items for sale.